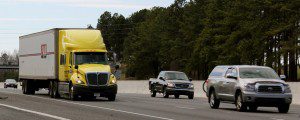 Commercial drivers must be especially wary of getting stopped for traffic tickets.  If you have a Commercial Drivers License and get a traffic ticket, a lawyer may be able to help.  You should not take a chance that traffic tickets cause problems for you.  We are here to help.  We aim to reduce penalties you may face, including effects on your license.  Read below to learn more about why commercial drivers must be especially careful about how they deal with a traffic ticket.
Loss of License and Higher Points
As a commercial driver, your livelihood depends on your ability to drive.  When others lose their license, they may be concerned about how they are going to get to work.  If you lose your license, you have to worry about finding a new job. For a person who uses their CDL for work, loss of a license often means loss of a job.  When a person loses their CDL, it can keep them out of commercial vehicle for long periods of time.  And after they get their license back, they still may have trouble finding a job because of their driving record.  Many types of offenses can result in points on your drivers license.
Violations when driving a commercial vehicle often result in much higher points than violations when driving an ordinary passenger vehicle.  For instance, if a person driving an ordinary vehicle passes a stopped school bus, he or she could get 5 points on his or her license.  However, if that same person was driving a commercial vehicle, the same offense would incur 8 drivers license points.  12 points is enough to suspend your license.  Even if you keep your license, a bad driving history can make it harder for you to get a job.  Companies are slow to hire when a person could expose the company to liability.
Unique Problems for CDL Holders
One important thing to remember for commercial drivers is that one of the common resolutions for other types of drivers will not help their case- the Prayer for Judgment Continued (PJC).  When a person is a Commercial Drivers License holder, a PJC will not be effective in their case. The North Carolina DMV treats the PJC as a conviction.  This is true no matter what vehicle you are driving, whether it is a personal vehicle or a commercial vehicle.
If you attempt to get a PJC, and the judge grants it, the NC DMV will ignore it. If the offense can result in a revoked license, the DMV sends a letter giving notice of the revocation.  Even if you don't lose your license for the offense, your insurer may raise your rates.  When you have a traffic ticket as a CDL holder, there needs to be a resolution other than a Prayer for Judgment Continued.
Special Tickets for Those Driving Commercial Vehicles
Another reason that traffic tickets are a special concern is that certain types of traffic tickets are only applicable for commercial drivers license holders.  For instance, while it is legal to drive an ordinary vehicle with a blood alcohol content of .02 (as long as the driver is not impaired), doing so in a commercial vehicle could be an offense.  The statute for Operating a Commercial Vehicle After Consuming Alcohol reads, "A person commits the offense of operating a commercial motor vehicle after consuming alcohol if the person drives a commercial motor vehicle… upon any highway, any street, or any public vehicular area within the State while consuming alcohol or while alcohol remains in the person's body."  A person driving a commercial vehicle cannot have any alcohol in their bloodstream.  This means that something which would be legal when driving an ordinary vehicle is illegal when driving a commercial vehicle.
Impaired Driving in a Commercial Vehicle
There is another alcohol offense which specifically applies to people who are driving commercial vehicles.  Impaired Driving in a Commercial Vehicle does not have the same blood alcohol content limits as ordinary vehicles.  The law states, "A person commits the offense of impaired driving in a commercial motor vehicle if he drives a commercial motor vehicle upon any highway, any street, or any public vehicular area within the State… [w]hile under the influence of an impairing substance; or… [a]fter having consumed sufficient alcohol that he has, at any relevant time after the driving, an alcohol concentration of 0.04 or more… or [w]ith any amount of a Schedule I controlled substance… or its metabolites in his blood or urine."
Notice that rather than the ordinary .08 limit, there is a .04 limit.  For driving with a blood alcohol content of .04, you could be punished just as much as an ordinary driver who has a blood alcohol content of .08.  Because you are driving a commercial vehicle, you are subject to tighter restrictions.
Higher Penalties
Finally, the penalties for some traffic offenses double when the driver is in a commercial vehicle.  The statute says, "Any person who commits an offense for which points may be assessed pursuant to the Schedule of Point Values for Violations While Operating a Commercial Motor Vehicle… may be assessed double the amount of any fine or penalty authorized by statute." There are higher penalties since such vehicles pose safety concerns.  Drivers of commercial vehicles face double fines, which is a serious financial aspect to consider.  This "raises the stakes" even higher.
Conclusion
As you can see, commercial drivers with traffic tickets must take their charges seriously.  Failure to resolve tickets results in future problems.  If you want to discuss the possible effects of your traffic ticket, give us a call.  There may be options to help you keep your CDL, keep your insurance premiums lower, and minimize fines.  Our traffic attorney will do his best to help you with your case.  Give us a call today!